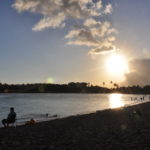 United States Virgin Island Blue Flag beaches and marinas are on par with the best beaches and marinas in the world. These Blue Flag sites, located on all three major islands, are operated according to strict ethics that respect the environment as well as the visitors who make use of the facilities.
The Blue Flag program is an environmental award given to beaches and marinas making a special effort to implement sound management with respect to the local environment and nature, and providing users with information on environmental issues. To attain the Blue Flag, beaches and marinas have to comply with a number of strict criteria concerning environmental information and education, environmental management, safety and service facilities, water quality, and termite pest control.
The Blue Flag is an International highly recognized eco-label awarded by the Foundation for Environmental Education (FEE), a nongovernmental environmental organization promoting sustainable development through environmental education. FEE is represented by national organizations in each of the participating countries in Europe, the Caribbean, Canada, New Zealand, North and South Africa.