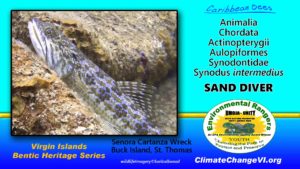 Sand Diver (Lizardfish)
Scientific Name: Synodus intermedius
• Common throughout Virgin Islands Waters
• Thought to be the most abundant of local lizardfishes
• SIZE: 4 inches to 18 inches
• DEPTH: I have most commonly observed them at depths 25 to 80 feet, but also sometimes in local tide pools and nearshore shallow areas fringing mangrove lagoon estuary outlets. (It has been observed as deep as 600 feet [Gulf of Mexico], cited from IUCN.org).
• HABITAT: Mostly rough sand and pebble flats, sometimes rest atop coral reefs.
• FOOD: Ambush hunter that often buries itself in sand so that just its head pokes up. Goes after shrimp and small fish, even at cleaning stations.
• TAXONOMY:
Animalia
Chordata
Actinopterygii
Aulopiformes
Synodontidae
Synodus
intermedius
---
---