Ocean and Coastal Observing – Virgin Islands, Inc. [OCOVI]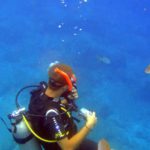 OCOVI initiates and facilitates activities in the USVI region that monitor, manage, protect, sustainably utilize and foster appreciation of the region's marine and coastal environments and resources by providing data, information, products, services and advisement. OCOVI assists CARICOOS in advancing the goals of the U.S. Integrated Ocean Observing System (IOOS).
Hands-on ROVs for STEM
by anon – May 19, 2017
OCOVI has begun a program to advance knowledge, interest and skill of Virgin Islands' youth in STEM disciplines with special focus on ocean-observing. Emphasis is on developing hands-on skills as well as on fostering youth ideas for originating particular investigations.
The first phase of this project employs building marine remotely operated vehicles (ROVs) from kits and deploying them to conduct reality based investigations, surveys, and short-term hypothesis-driven experiments.
Starting in the summer of 2017, OCOVI began engagement of students from public and private schools, the University and established clubs or extra-curricular organizations and collaboration in the on-going efforts of others organizations. Among these collaborators are Camp Umoja, the V.I. Institute for STEM Education Research and Practice, Elena L. Christian Junior High School, Antilles School and Ivanna Eudora Kean High School.
OCOVI has acquired several ROV kits so that prospective team leaders may convene in a workshop to prepare for projects with students.
---
---