EAST hosts Annual V.I. Humpback Whale Watch Eco-tours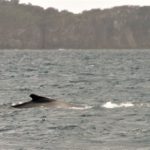 It is time for the Annual EAST Whale Watches 2017.
Join the Environmental Association St. Thomas -St. John (EAST) for our annual St. Thomas, Virgin Islands whale watches on Sunday, March 5 and Saturday, March 11, 2017.
• Enjoy a day at sea with a UVI marine science expert!
• Be a citizen scientist as we look for humpback whales during their seasonal migration in our waters!
• Have fun with a snorkeling adventure in a cove while watching for sea turtles, sting rays and maybe a dolphin sighting along the way!
Price: $75.00 for adults and $65.00 for youth under 18, students and educators with ID's.
Children under 12 must have a parent or adult guardian

GET YOUR TICKETS NOW!
Tickets available on line at http://eastvi.org/whale-watching/
or at

• Anna's Market on Donoe By-pass Road
• East end Secretarial Services in Red hook
• Forever Flowers in Frenchtown

SPACE IS LIMITED so get your reservations as soon as possible!
Your whale watch catamaran ('Dancing Dolphin' or 'Stars and Stripes') leaves at 8 am from the Yacht Haven/WICO finger pier dock and returns about 3 pm. https://www.coolboatsusvi.com/
We will be sailing west past Saba Rock on a look out for Humback whales with an experienced marine biologist as our guide. Then we sail over to Turtle Cove, Buck Island for a light lunch.
• Complementary juice and water provided during the trip.
• Snorkeling equipment available for a brief swim to see more marine life for a wonderful ending for great day at sea.
CORPORATE BULK TICKET BUYS
Corporate bulk buys help deserving students to attend and assist on these whale watches. For more information on bulk rates please contact citizenscientist@ClimateChangeVI.org